Lower Dolpo Trek - 21 Days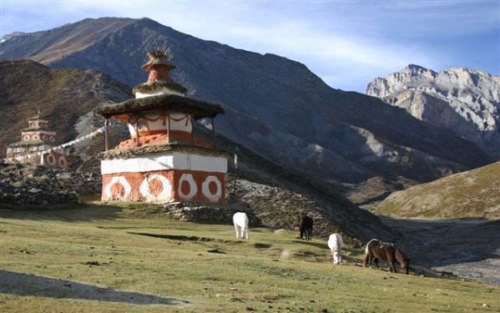 Trekking to Lower Dolpo offers a remarkable experience of a lifetime. This remote region of Nepal features isolated valleys similar to that of Tibetan highlands. The east and south of Lower Dolpo is bordered with the Dhaulagiri and Churen Himalayan ranges and to the west with Jumla.
The people of this area are of Tibetan stock and their culture and religion basically resemble to Tibet. While trekking in the highlands travelers will have an opportunity to explore ancient isolated villages, diverse flora and fauna, Buddhist monasteries, fresh water lake, etc. The focal point of the entire trek is Shey Phoksundo Lake surrounded by forests and snow capped peaks. The Shey Phoksundo national park is one of Nepal's natural abode of diverse flora and fauna.
Itineraries
Day 01: Arrival and transfer to hotel
Day 02: Permits preparation day
Day 03: Fly/ Drive Kathmandu to Nepalgunj
Day 04: Fly Nepalgunj to Juphal & trek to Dunai (2150m)
Day 05: Trek to Tarakot (2550m)
Day 06: Trek to Khanigaon (2550m)
Day 07: Trek to Chukore (3550m)
Day 08: Trek to Kamokharka (4000m)
Day 09: Trek to Dho (4130m)
Day 10: Trek to Numa La Camp (4350m)
Day 11: Trek to Bang La Camp (4500m)
Day 12: Trek to Sanu Bheri Valley
Day 13: Trek valley to Phoksundo Lake (3730m)
Day 14: Trek to Pungmo Valley (3304m)
Day 15: Trek to Lasa Meadow (about 4300m)
Day 16: Trek to Garpung khola Valey (4000m)
Day 17: Trek to Hurikot (2600m)
Day 18: Trek to Forest Camp (3250m)
Day 19: Trek to Churta (3010m)
Day 20: Trek to Jumla (2370m)
Day 21: Fly to Nepalgunj & same day fly to Kathmandu
Other Details
Service Includes:
Airport pickup & transfer to hotel
Hotel accommodation in Kathmandu
Transportation to and from Kathmandu to Nepalgunj as per itinerary
3 meals a day during the trek
Accommodation in tea house or tents during the trek as per the itinerary
Government licensed trekking guide and necessary porters during the trek
Special Area Permit
TIMS card
Guide & Porter(s) accommodation, transportation, food, salary, insurance

Service Excludes:
Trekking Equipment
Hotel accommodation in Kathmandu
Any sort of personal expenses that include alcoholic beverages, soft drinks, phone & laundry
Nepal entry visa fee
Travel & Medical insurance
Tips & Gratuities
Best Season: Spring/Autumn
Package Duration: 21 days
Grade: Challenging